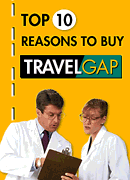 TravelGap® Insurance Essential coverage for comprehensive medical treatment including emergency evacuation wherever you travel. TravelGap travel insurance is an integrated membership product which covers the cost of medical care for individuals who are away from home, discounts on pharmacy and vision benefits etc...
Highway to Health can help you research, access and pay for quality healthcare, anywhere in the world. HTH Travelers Club The first global healthcare travel club, dedicated to providing members with critical healthcare information and access to healthcare services the world over.
HighwayToHealth.com fills the gaps in healthcare when you travel. HTH's CityHealth profiles provides access to: information about the healthcare services in over 500 destinations around the world; HTH offers a global network of physicians in more than 80 Countries; the first International online appointment scheduling system; and a unique insurance product called TravelGap.